Unlimited searching of Rep qualifications before purchasing a subscription.
Call

TOLL FREE

877-895-2909 to receive assistance and FIVE Bonus Contacts when you first subscribe.
FREE TIPS FOR WORKING WITH REPS
if you complete your registration today!
Click here to Register now!
Search Today!

Free for Reps!
Manufacturers Representatives, Independent Sales Reps: RepHunter provides growing companies the fastest, most cost-effective way to find qualified Sales Representatives—increase revenue and expand market reach.
RepHunter finds the Manufacturer Rep more business opportunities. We have over 15 years of helping Independent Sales Reps find new lines.
Build your sales force with Independent Sales Representatives, Manufacturers Representatives, and Sales Agencies. Guaranteed to have sales reps in your industry actively seeking new lines.
Find Your Sales Rep Fast
Our innovative matching process helps manufacturers, service providers, distributors and independent sales reps find each other with ease.
The best way to build your business is Independent Sales Reps!
RepHunter makes it FAST, SIMPLE, and EASY to find your Manufacturer Representative!
SALES REPS: FIND NEW LINES!
PRINCIPALS: FIND INDEPENDENT SALES REPS!
The RepHunter Guarantee
(more ...)
New members every day — our online directory is always fresh!
We are dedicated to 100% commission products and services, and to the reps that are looking for them.
Self-Service Plan Guarantee
You proactively search our online directory for reps that meet your requirements and then select reps to contact. If the rep does not respond, or is not actively seeking new commission-only lines, you may request a Rep Credit, which allows you to contact another rep.
Reps have up to 14 days in which to respond and Rep Credits must be used while your subscription is active. You may need to subscribe for additional months to request and use your Rep Credits. Otherwise, you will be able to use your remaining contact allotment any time in the future after resubscribing to a self-service plan.
Full-Service Plan Guarantee - Platinum 1 & 2
For a period of 60 days from the start of service, RepHunter via its business relationship with Modern Marketing will locate independent reps with a proven track record of sales in your industry and in your desired territory.
We will interview the candidates to make sure they are aware of your line specifics and potential and make a formal introduction. We guarantee that the defined number of hires will accept your offer, take your line, and execute your Representation Agreement ("sign").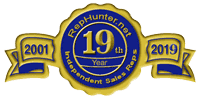 Member Benefits
Testimonial
Member #35435
"Aloha from Honolulu!! Wanted you folks to know ... You're The Best!!!! We thank you for all you do. Just picked up the J-Handles line thru your site and its gonna be a winner. That's only the latest success. There are others, and rephunter.net is frankly, the only reason we've come this far, in such a short period of time. As we say here in paradise, "you folks are da bomb!!" Much Mahalos from Gilmour Sales Of Hawaii & Guam."
(more....)
Click here to view
our TV commercial!