Hot Sales Opportunities for Independent Sales Reps and Manufacturers Reps
Featured Manufacturers, Suppliers, Distributors, and Service Providers
present their sales opportunities and new lines.
Click on the images and links in the ads to find out more about the Principal.

We are seeking self-motivated, independent sales representatives to sell our Metrology Products and Services
About:

For over 29 years, Automated Precision Inc. (API) has used advanced metrology to develop customized solutions for some of the world's leading companies. API offers a complete line of Laser Trackers, Machine Tool Calibration products and Contract Services. Our products are manufactured in the United States and are used by many of the world's leading automotive, aerospace, shipbuilding, machine tool, and energy companies.

API Services specializes in three-dimensional measurements and high-value metrology solutions. API Services is home to some of the world's leading three-dimensional metrology technical experts, with many certified by the Coordinate Metrology Society. With over 200 years of combined metrology experience, our measurement specialists are the authority on the latest three-dimensional measurement systems such as laser trackers, 3D laser scanning systems and other integrated systems. The machine tool calibration team is world-class, offering the latest machine compensation methods, including volumetric solutions.

To solve customer problems, Automated Precision offers metrology products, dimensional inspection and services including consulting, calibration, machine tool error mapping, contract measurement, 3D CAD modeling and reverse engineering. The continuous integration of the most advanced measurement technologies available today and superior customer support are the primary objectives of API.
What we offer: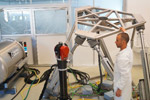 Exceptional commission
Marketing Materials, sales support
In-depth training & support
An incredible product, services and engineering team to meet your needs
This is a great opportunity to work with a growing company that understands the value of truly supporting their independent representative network.
Contact:
Email:
Phone:
Mobile:
Website:
773.745.6800
Technox Machine & Manufacturing Inc. Specializes in Machined Parts & Metalworking Operations
Industries Served Include Automation, Oil & Pipeline & Printing Equipment, Food Processing, Packaging & Plastic Processing Machinery & Conveying Bulk & Steel Processing



Full Service Machine Shop Since 1976

Technox Machine & Manufacturing is an industry leading provider of large part machining services. Because of our versatility we can be a one stop source for all your machining, fabricating, grinding and welding requirements. We provide in-house-control of complete machine shop operations which optimizes our manufacturing processes, reduces cost and provides quicker delivery. Our overall mission is to provide our customers with convenience, efficiency, and the favorable pricing associated with using a single vendor. If you require full production runs, prototypes or smaller production runs we can help you. Contact Us Today!
Target Customers
All major industries such as Steel Mills, Oil, Natural Gas, Automotive, Coal, and Pharmaceuticals
Sales Opportunity
This is an exceptional opportunity to work with a growing company that understands the value of truly supporting their independent rep network. Our Commissions are exceptional for this industry and we do provide exclusive protection. Technox is also ISO certified.
Technox Machine & Manufacturing Inc.
2619 N. Normandy Ave.
Chicago, IL 60707
Phone: 773.745.6800 | Fax: 773.745.8502
Email: amitshirsat@technoxmachine.com
Website: www.technoxmachine.com

OSHA Compliant
ISO 9001:2008 Certification