Hot Sales Opportunities for Independent Sales Reps and Manufacturers Reps
Featured Manufacturers, Suppliers, Distributors, and Service Providers
present their sales opportunities and new lines.
Click on the images and links in the ads to find out more about the Principal.

SALES OPPORTUNITY: Top quality, professional grade, hair iron brand seeks highly motivated, dynamic sales professional. We are looking for someone skilled to help with bulk sales, liquidation. Generous Commissions offered.
HD PROFESSIONAL FLAT IRONS FEATURES:
. ULTRA PROFESSIONAL-GRADE MATERIALS AND DESIGN
. 1" and 1.25 INCH SMOOTH FLOATING CERAMIC TOURMALINE PARTICLE- COATED PLATES FOR EVEN HEATING AND SMOOTHER, SHINIER HAIR
. BUILT IN ION GENERATOR: SHOOTS ACTIVE IONS WHILE IN USE FOR FRIZZ- FREE. SMOOTH AND SLEEK HAIR.
. PERFECT FOR EXCEPTIONAL HANDLING OF ALL HAIR TYPES, FROM FINE TO THICK AND COARSE
. DUAL VOLTAGE FOR WORLDWIDE USE
Check out our website: www.hdprofessional.com.
For further information, please contact kalpana@hdprofessional.com

SALES OPPORTUNITY: World's premium Kinesiology Tape is looking for the best sales professionals to help establish distribution channels, bulk sales and growing the brand. High commissions offered.
What sets GoTape apart from the crowd, aside from the rigorous research and development, is the superior adhesive used on the tape, the highest grade materials used in manufacturing, and the most stringent quality control to ensure the most consistent and highest quality tape on the market. GoTape utilizes an advanced body adhesive that allows for comfortable wear and superior adhesion. GoTape is hypoallergenic and latex-free and reinforced with cotton fibers.

Dynamic outside sales reps needed
ABOUT
Morrissey has the in-house engineering, tooling and production team in place for your most complex metal stampings, assemblies and fabrications. We offer a range of custom metal working services, and have a long history of partnering with a diverse range of customers across industries on mission critical parts and components. The parts that we manufacture and assemble are in use all over the planet, from battlefield to power plants, and from aircraft to medical devices.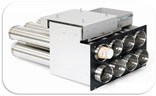 CUSTOMERS TO TARGET
We are looking for highly motivated sales reps to help us expand in Automotive Tier 1 & 11, aerospace, and defense Metal stamping: short to medium run stampings in the Automotive, Defense, and Aerospace industries. Material we use are Aluminum, Cold Roll Steel, Alloy steels, Brass, Copper, and other alloys
Machining: Short to medium run machining's for Aerospace, Automotive and Defense. Using Steel, Alloy steel, and Aluminum
Mechanical assembly: Moderate to complex assembles. From simple pem nut insertions to complex aerospace assemblies.
OPPORTUNITY
This is an exceptional opportunity to work with a company that has a long and established history in the metal stamping industry. We have an in-house sales manager that will provide the necessary sales tools to support our reps.
WHAT WE OFFER
Exceptional commission
Marketing materials
Product samples
Account based sales
Independent Sales Representatives
GiGi New York/Graphic Image is an established leather accessory and handbag manufacturer located in Melville, NY. As a company, we are looking to expand our sales representation across all product categories and are looking for regional representation in all parts of the country. The retail channels we are looking to pursue are;
HOME, GIFT AND STATIONERY. Graphic Image is a 40 year old made in America brand whose products are associated with a wide range of stores, from elevated locations like Barneys and Neiman Marcus to across the spectrum retailers like Mark & Graham. We are a pre-eminent leather bookbinder who also produces leather accessories across a wide range of gift categories, from wedding to office to pet.
FASHION BOUTIQUES. GiGi New York occupies a middle/high position in the leather luxury handbag market. The growth of this six year old brand was fostered by an outsized social media presence gaining the company widespread brand recognition in highly competitive market. The company is now turning its attention to its brick and mortar opportunities commensurate with existing customers such as Wendy Foster, Julian Gold and Darien Sport Shop who actively carry our handbags.
Our domestic production capability allows us considerable latitude to working with demanding customers. This ability, combined with our strategic overseas relationships, uniquely positions us to deliver high value leather products in European leathers on shapes that never go out of style.
We are looking to hire multiple salespersons and will consider both independent and company applicants. It is not our expectation that one individual can cover both brands, but we are open to any discussion.
Our requirements include:
Minimum of 1-2 years' experience in outside sales to mid-tier and high-end specialty boutiques.
Able to work a flexible schedule including some evenings and weekends.
Willing to travel designated region for appointments, trade shows and in-store events.
Strong cold phone prospecting, presentation and closing skills.
Self-starter attitude with ability to work well independently.
Love of relationship selling with commitment to long term follow thru.
Responsibilities include but are not limited to:
Secure appointments with boutique buyers/owners and represent the brand in road appointments and regional trade shows.
Prospect and vet new stores assuring stores that are opened both meet the company's criteria for quality of store and that they are not in conflict with any existing stores.
Organize and maintain a schedule for calling on and following up with all customers to develop and retain business through superior customer service.
Provide National Sales Director with sales projections & goal targets including key account activity, sales forecasts, quotes, etc.
773.745.6800
Technox Machine & Manufacturing Inc. Specializes in Machined Parts & Metalworking Operations
Industries Served Include Automation, Oil & Pipeline & Printing Equipment, Food Processing, Packaging & Plastic Processing Machinery & Conveying Bulk & Steel Processing



Full Service Machine Shop Since 1976

Technox Machine & Manufacturing is an industry leading provider of large part machining services. Because of our versatility we can be a one stop source for all your machining, fabricating, grinding and welding requirements. We provide in-house-control of complete machine shop operations which optimizes our manufacturing processes, reduces cost and provides quicker delivery. Our overall mission is to provide our customers with convenience, efficiency, and the favorable pricing associated with using a single vendor. If you require full production runs, prototypes or smaller production runs we can help you. Contact Us Today!
Target Customers
All major industries such as Steel Mills, Oil, Natural Gas, Automotive, Coal, and Pharmaceuticals
Sales Opportunity
This is an exceptional opportunity to work with a growing company that understands the value of truly supporting their independent rep network. Our Commissions are exceptional for this industry and we do provide exclusive protection. Technox is also ISO certified.
Technox Machine & Manufacturing Inc.
2619 N. Normandy Ave.
Chicago, IL 60707
Phone: 773.745.6800 | Fax: 773.745.8502
Email: amitshirsat@technoxmachine.com
Website: www.technoxmachine.com

OSHA Compliant
ISO 9001:2008 Certification
© Copyright 2001-2018 RepHunter, Inc. All Rights Reserved.