Hot Sales Opportunities for Independent Sales Reps and Manufacturers Reps
Featured Manufacturers, Suppliers, Distributors, and Service Providers
present their sales opportunities and new lines.
Click on the images and links in the ads to find out more about the Principal.

We are seeking self-motivated, independent sales representatives to sell our Metrology Products and Services
About:

For over 29 years, Automated Precision Inc. (API) has used advanced metrology to develop customized solutions for some of the world's leading companies. API offers a complete line of Laser Trackers, Machine Tool Calibration products and Contract Services. Our products are manufactured in the United States and are used by many of the world's leading automotive, aerospace, shipbuilding, machine tool, and energy companies.

API Services specializes in three-dimensional measurements and high-value metrology solutions. API Services is home to some of the world's leading three-dimensional metrology technical experts, with many certified by the Coordinate Metrology Society. With over 200 years of combined metrology experience, our measurement specialists are the authority on the latest three-dimensional measurement systems such as laser trackers, 3D laser scanning systems and other integrated systems. The machine tool calibration team is world-class, offering the latest machine compensation methods, including volumetric solutions.

To solve customer problems, Automated Precision offers metrology products, dimensional inspection and services including consulting, calibration, machine tool error mapping, contract measurement, 3D CAD modeling and reverse engineering. The continuous integration of the most advanced measurement technologies available today and superior customer support are the primary objectives of API.
What we offer: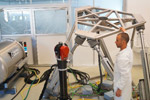 Exceptional commission
Marketing Materials, sales support
In-depth training & support
An incredible product, services and engineering team to meet your needs
This is a great opportunity to work with a growing company that understands the value of truly supporting their independent representative network.
Contact:
Email:
Phone:
Mobile:
Website:

We are in search of highly-motivated sales representatives interested in jumping into the large and profitable market of Customer Engagement Solutions.
Over the past few years, the demand for Customer Engagement Solutions has skyrocketed, especially for products that offer more than a simple loyalty or rewards program.
We offer a full suite of high-value, cost-effective Customer Engagement tools that can be used by almost any small business. And we're looking to grow our company considerably.
This is where you come in.
Whether you have several well-established relationships with company decision makers, or you're just getting started, this is a great opportunity for you to achieve your personal goals, while helping us achieve ours.
Maintaining partnerships with commitment and trust is a top priority for us. We will provide training, quality content, and other tools that are necessary to help you succeed.
When you're ready to learn more about this high potential residual income opportunity, please contact us. We look forward to speaking with you.
Contact:
Pat Kunish
1-888-882-1530 x257
pkunish@smartwerksusa.com
smartwerksusa.com/smartconnect
About SmartConnect:
Easy to use and learn, SmartConnect enables business owners to connect with their customers through WiFi, text, email, social media, and almost any other communication medium you can think of. Using automated messages that include coupons, surveys, and special offers, small businesses build loyalty and increase their profits.

We are looking for Manufacturer Representatives for the U.S. and Canada.
Bliss Press USA has over 150 years of experience in manufacturing mechanical stamping presses. Anyone who has been involved in this business recognizes Bliss as a household brand. Bliss presses are stocked in Hastings, MI. We have over $10M of parts stocked in Hastings, and service is staged from Michigan. A huge selling advantage!
Our Target Markets: Automotive, Tiers, Aerospace/Defense, Appliance, Medical, Gas/Oil, Mining, Manufacturing, and more.
Our Products: Gap Frame and Straight Side Mechanical Presses, with High Speed Options.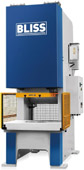 What We Offer:
Exceptional commission.
Marketing materials.
Factory support.
Leads in your territory.
Rep Requirements:
Aggressive approach to grow territory.
Relevant market experience.
Experience and ability to run with product.
Eagerness to work with Bliss line.
References.
Come Join the Bliss Team!

Contact
Tony DeMerle
Anthony.DeMerle@BlissPressUSA.com
www.BlissPressUSA.com
We are looking for Manufacturer Representatives (Commission Only Sales) in the following states: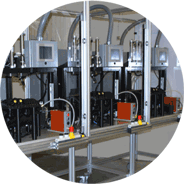 Georgia, Indiana, Michigan, Ohio, Tennessee, Alabama, Illinois, Virginia, and West Virginia and Wisconsin
Target Customers: Automotive, Medical, Appliance and Aerospace parts manufacturers
Product Lines:
Semi-Automated Plastic Joining Systems
Air Leak Testing Stations
Precision Fastening Systems
Robotic Workcells
Sales Opportunity: We offer great commissions for our reps, and protected territory for those who show they can sell.
In addition, Automated Machine Systems ( www.ams-machines.net) offers our reps the following:
Full-time/in-house market research and led generation support
100% on-time delivery record
98% customer satisfaction
24/7 customer support
We take care of our reps-the owner was an independent rep for 20 years!
Contact Camille Rechel (crechel@werkridge.com) for more information!