A question that inside sales rep employees ask themselves is, "How do I become an independent sales rep?" In constrained economic periods salaried sales jobs see bonuses disappear or commissions get cut. The thought that a sales person can make more money as an independent sales rep, rather than as an employee spurs the search for more profitable ways to sell.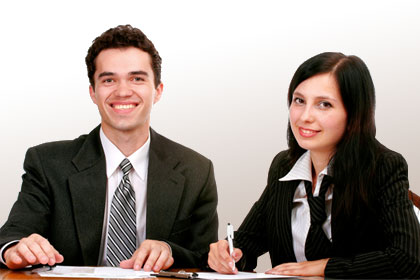 Obviously there isn't a simple and straight-forward answer to going independent. There are clear benefits to becoming a contract or independent sales rep, but it isn't a career path for everyone.
On the positive side, becoming an independent, commission-only sales rep is basically the pinnacle of any sales career.
This is true for a few simple reasons: the first, and most important to many people, is the high level of independence. You basically become your own boss. Because you don't work for any given company, and carry many lines at once, you don't have any boss other than yourself. You have people to answer to, but ultimately you decide the route that your professional life will take. With diversification, you protect yourself to a greater extent from cyclical economic downturns.
Being an independent rep with multiple lines is the sales equivalent of diversifying stock investments. If one line that you sell doesn't succeed fully, you don't go down with the ship. You have other options available to you, and you should be able to proceed with business without the obviously damaging effects of having one's employer fail.
Independence from Being the Sales Rep for Only One Company
The other side of this coin is that since you sell more than one product, you make MORE MONEY. For example, as an independent rep not tied to one particular line, it becomes a no-brainer when you're selling a computer to a customer, to also sell them printers, service plans and office accessories. It allows you to close multiple sales at one sales call. All the while, you provide your sellers with an incredibly valuable service – immediate penetration to potentially inaccessible vertical markets.
The most important benefit of being an independent rep is basically, if you are able to perform, the sky is the limit! Working on commission, a highly motivated and successful sales rep has enormous potential to make an incredible living. This is not a guarantee, there is always a risk. But again, if you are able to perform well, there is no effective limit to your income.
Being an Independent Sales Rep Isn't For Everyone
This all sounds wonderful! Why wouldn't you want to become a sales rep? Well, it isn't for everyone. For one thing, you need to be 100 percent commitment to become an independent sales rep. This cannot be a holdover job while looking for something better. It needs to be a goal; a destination.
As a start-up sales rep, you might go six months or more without income on new lines. This isn't a hard and fast rule by any means. However, after you find a line, it can take months to make your first sale. Then it can take 30 – 90 days to get paid after a sale. So build up income on your existing customer base to handle taking on your new lines. Plus a solid base of buyers ensures your potential new clients that you are working complementary lines and targeted buyers.
The biggest reason that becoming a sales rep may not work for you is if you don't have relationships with buyers. This is the most valuable asset you offer to small business owners and sales managers. Again, you can penetrate markets to which the manufacturer or business has no exposure otherwise.
Your ability to bring a company's service or product lines to customers with whom you already have a sales relationship is your asset. You can immediately begin to make sales for companies who search RepHunter everyday for sales reps.
If you can do this, you are a sales asset. You can leverage your experience and knowledge of people and markets gained as an employee to serve as your base to start taking on lines and adding to your customer base. Once you get going, keep improving your markets and line card until you are at that desired level of profitability.
How to Become an Independent Sales Rep
If making more money appeals to you, maybe it's time to make that decision and create your free Sale Rep Profile! We advertise for you, bringing in companies from many industries who are specifically looking for full commission, independent sales reps. Plus, for more in-depth information, download our free download Getting Started With Independent Sales Representation with your profile!