By Charles Cohon
"Well, that's what I used to say about pioneering lines," says Ralph, a manufacturers' rep. "I have a well-established line card and I just couldn't justify taking time away from those lines to promote a product that wasn't bringing in any income. But a manufacturer who really wanted me to rep his line came up with a very creative program that changed my mind."
How did the manufacturer change the rep's mind? With a joint territory development fee.
Joint Territory Development Fees
"My company is a powerhouse in the Eastern U.S.," says Jim, the manufacturer, "but we have no existing business in California, which made recruiting a California rep for our product a huge challenge. And when I started my conversation with Ralph 'no existing income' was pretty much a deal breaker for him too. I did find reps who would take on my line with no existing income, but they didn't operate at the same high level of professionalism as Ralph's firm, so I really pushed for a program that could justify having Ralph add my company to his line card."
Ralph agreed, adding "When I call on a customer they are usually pretty open to having me present three or four of my product lines. So when I do my mental calculus and choose to present products V, W, X, and Y to that customer but leave out product Z, it's based on maximizing my income from that call. And if I have a line on my line card that produces zero income, it's just not going to make the cut and get included in my sales calls."
Until Jim learned about joint territory development fees, his conversation with Ralph would have ended abruptly when he revealed that the territory he was recruiting for had no existing business. But now, thanks to innovative thinking in the manufacturers' rep industry, Ralph and Jim were able to strike a win-win agreement that made sense for both of their companies.
"It was pretty simple once we each watched MANA's Developing New Markets With Professional Manufacturers' Representatives video," Jim said. "Bottom line, we put together a joint plan that estimated Ralph's cost of having Ralph launch our line in his territory, agreed on reasonable reports so I'd know where my money was going, and we split the cost 50/50, with my company sending Ralph a monthly check for our half for one year."
Sharing the launch costs 50/50 meant both Ralph and Jim had "skin in the game" and that the launch cost would not be 100% at Ralph's expense, and by the second year Ralph had Jim's line well established in his territory. For both companies, it was time and money very well spent.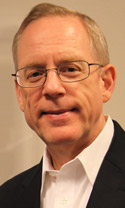 Charles Cohon is CEO and President of the Manufacturers' Agents National Association (MANA), a non-for-profit trade association that provides educational materials to agents and principals to help them find great partners and work together as professional partners in profits. He can be reached at
ccohon@manaonline.org
. MANA's web site is
www.manaonline.org.