Find Retail Sales Representatives
The Retail Industry
Principal Review

Member #45724
"I'm a small business person bringing a new product (www.The EasySeat.com) to market, and it can be intimidating to say the least. Thanks to RepHunter, my search for qualified, professional sales reps has been a painless, and even enlightening process! With RepHunter, you can quickly put together a national (and international) sales team in a matter of days, from the comfort and convenience of your home or office.
I know the initial fee may sound high for some, but think about what even one professional salesperson is worth to you in profits. And this is not a site that 'warehouses' tons of old or useless contacts. RepHunter is real! Everything is sorted by most recent activity, and you can clearly see the last time a rep has signed in, as well as their average response time. I'll admit, I was slightly skeptical, but as soon as I had access to the site, I realized what a goldmine it is! I quickly scanned more than 500 reps across 4 or 5 categories, and narrowed down my search down to the 55 reps I was allotted. I also received more than 30 requests from reps on top of this. Out of the 88 eligible contacts, I came away with 21 experienced and qualified reps across the country that were interested in selling my product! I don't know any other way I could have accomplished this in less than a month!
RepHunter is a powerful business tool that delivers far more than it promises. It's extremely easy to use to contact, evaluate and organize multiple sales reps, that can transform your business from a local operation into an international force in a matter of days, expanding your sales reach into retailers and markets that can put your product in front of consumers everywhere!
Thanks, Brenda! Your site is amazing!"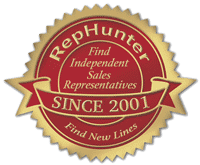 Use RepHunter to Get These Benefits:
Try Before You Buy!
Huge database of Independent Sales Reps actively looking for lines in your industry!
Customer service second to none!
Unlimited telephone support!
Guaranteed Targeted Contacts!
Complete your profile and confirm your email address within 24 hours and receive RepHunter's Guide to Independent Sales Reps—16 years of experience in an easy-to-read guide—for free.
Self-Service Plan Guarantee
You proactively search our online directory for reps that meet your requirements and then select reps to contact. If the rep does not respond, or is not actively seeking new commission-only lines, you may request a Rep Credit, which allows you to contact another rep.
Reps have up to 14 days in which to respond and Rep Credits must be used while your subscription is active. You may need to pay to subscribe for additional months to request and use your Rep Credits. Otherwise, you will be able to use your remaining contact allotment any time in the future after resubscribing to a self-service plan.
Full-Service Plan Guarantee - Platinum 1 & 2
Description of the Plan and Guarantee
For a period of sixty days from the start of service ("Service Period"), RH will locate independent Reps with a proven track record of sales in your industry and in your desired territory. RH will interview the candidates to make sure they are aware of your line specifics and potential and make a formal introduction. RH guarantees that the defined number of hires will accept your offer, execute your Representation Agreement, and take your line.