Find Independent Beauty Products Sales Rep Jobs
The Beauty & Cosmetics Industry
Rep Review

Member #44738
"Brenda, I am thrilled with how many responses I get from your services and that they are really real companies. I have referred people to RH and they love it and have picked up territories. I would recommend RepHunter to anyone who is seeking to find new lines. I have found a lot of great companies and met some potential prospects. Lots of opportunity here. Thanks RepHunter. Thanks for the Opportunity. Shame someone didn't think of this sooner."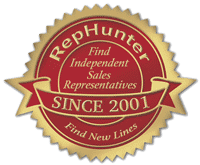 Use RepHunter to Get These Benefits:
Free service for reps!
Huge database of Companies actively looking for you to take their lines!
Customer service second to none!
Unlimited telephone support!