Find Independent Wine Sales Rep Job Opportunities
The Wine and Spirits Industry
Rep Review

Member #68841
"I have been totally impressed with your Site and the 3 Responses I have already received, and will be signing a Rep Agreement with one!"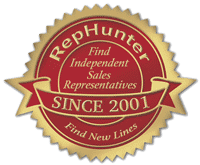 Use RepHunter to Get These Benefits:
Free service for reps!
Huge database of Companies actively looking for you to take their lines!
Customer service second to none!
Unlimited telephone support!