Wholesale Sales Rep Jobs, Manufacturers Reps Needed
The Wholesale Industry
Rep Review

Member #41682
"RepHunter has been a great site, especially for a new rep company."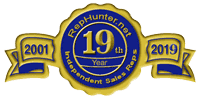 Use RepHunter to Get These Benefits:
Free service for reps!
Huge database of Companies actively looking for you to take their lines!
Customer service second to none!
Unlimited telephone support!

© Copyright 2001-2020 RepHunter, Inc. All Rights Reserved.