Find Medical Device and Equipment Representative Jobs
The Medical Device &
Medical Equipment Industry
Rep Review

Member #11523
"I made contact with a medical equipment supplier that I am now representing in Florida. It was exactly what I was looking for. RepHunter is a great contact point for independent contractors like me."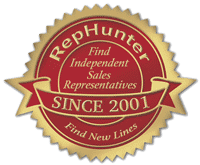 Use RepHunter to Get These Benefits:
Free service for reps!
Huge database of Companies actively looking for you to take their lines!
Customer service second to none!
Unlimited telephone support!