Find Independent Jewelry Sales Representative Jobs
The Jewelry Industry
Rep Review

Member #38527
"Jeff's company RepHunter, Inc. is an innovative and user friendly resource for independent sales representatives and companies in need of sales reps. I find the web site user friendy and the Monday updates very useful. They respond quickly and professionally to any inquiry. I am pleased to be doing business with Jeff and RepHunter, Inc. and look forward to a long relationship."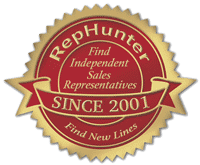 Use RepHunter to Get These Benefits:
Free service for reps!
Huge database of Companies actively looking for you to take their lines!
Customer service second to none!
Unlimited telephone support!