Find Independent Furniture Sales Rep Job Opportunities
The Furniture Industry
Rep Review

Member #5652
"Dear RepHunter.net: Actually, the ONLY reason that I asked to have my profile discontinued is because I have gotten SO many good opportunities through RepHunter that I have reached a point where I just can not add anything more right now and do everyone justice! If I find that at some point in the future I would like to look for more Rep opportunities, I certainly would not hesitate to use your services. I will recommend your service to anyone I come across who is looking for Rep opportunities! Thanks for all of your help. Regards."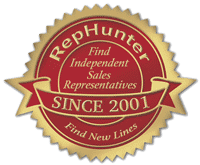 Use RepHunter to Get These Benefits:
Free service for reps!
Huge database of Companies actively looking for you to take their lines!
Customer service second to none!
Unlimited telephone support!