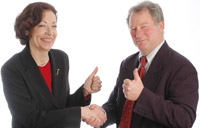 Refer Someone
Give $50—Get $50
Thank you for taking your time to tell someone about the RepHunter service.
We have several different offers. If you have a RepHunter profile, please login to see which ones you qualify for. Otherwise, you may fill out the form.
We will contact your referral and send you $50 cash when they pay to subscribe; the company you refer will get $50 off their new subscription.
If they create a profile as a rep, we will add 5 contact requests to your allotment on your next subscription period instead of any other compensation.
Please enter the information in the form.