Find Independent Sportswear Sales Rep Jobs
The Sportswear Industry
Rep Review

Member #21826
"RepHunter.net is the single most personally responsive website that i have yet dealt with. in the event of technical questions or issues concerning postings, Brenda has returned every phone call in 'record times', ranging from 5 minutes to all of 20 minutes during lunch hour. This is absolutely astounding for any Internet-based service!"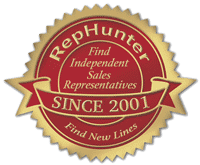 Use RepHunter to Get These Benefits:
Free service for reps!
Huge database of Companies actively looking for you to take their lines!
Customer service second to none!
Unlimited telephone support!