Find Independent Financial Services Sales Rep Job Opportunities
The Financial Services Industry
Rep Review

Member #40892
"Brenda, thought I would just drop you line to let you know what a great job you are doing. Your website has helped me to grow my Rep business. I have used you for 2 years now and can really tell the difference in your leads verse's other Rep websites. I especially like your prompt attention when I have a problem. You get back to me very quickly to solve any problem I might have. Keep up the good work."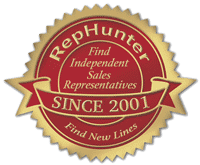 Use RepHunter to Get These Benefits:
Free service for reps!
Huge database of Companies actively looking for you to take their lines!
Customer service second to none!
Unlimited telephone support!