Find Independent Automotive Sales Rep Job Opportunities
The Automotive Industry
Rep Review

Member #18176
"I found your site to be one of the best online sites for potential clients. I thank you for your time and accessibility to so many products."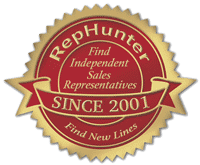 Use RepHunter to Get These Benefits:
Free service for reps!
Huge database of Companies actively looking for you to take their lines!
Customer service second to none!
Unlimited telephone support!