Find LED Lighting Sales Reps
The LED Lighting Industry
Principal Review

Member #58135
"Brenda: We found an excellent rep. using your site and just signed with him. We will continue to look for 2-3 more in other areas of the country. Brenda was very helpful even before I signed up. Thank you for your renewal heads-up message as well. Most sites don't do this!"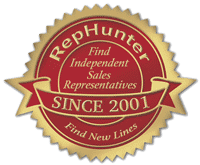 Use RepHunter to Get These Benefits:
Try Before You Buy!
Huge database of Independent Sales Reps actively looking for lines in your industry!
Customer service second to none!
Unlimited telephone support!
Guaranteed Targeted Contacts!
Complete your profile and confirm your email address within 24 hours and receive RepHunter's Guide to Independent Sales Reps—16 years of experience in an easy-to-read guide—for free.
Self-Service Plan Guarantee
You proactively search our online directory for reps that meet your requirements and then select reps to contact. If the rep does not respond, or is not actively seeking new commission-only lines, you may request a Rep Credit, which allows you to contact another rep.
Reps have up to 14 days in which to respond and Rep Credits must be used while your subscription is active. You may need to pay to subscribe for additional months to request and use your Rep Credits. Otherwise, you will be able to use your remaining contact allotment any time in the future after resubscribing to a self-service plan.
Full-Service Plan Guarantee - Platinum 1 & 2
Description of the Plan and Guarantee
For a period of sixty days from the start of service ("Service Period"), RH will locate independent Reps with a proven track record of sales in your industry and in your desired territory. RH will interview the candidates to make sure they are aware of your line specifics and potential and make a formal introduction. RH guarantees that the defined number of hires will accept your offer, execute your Representation Agreement, and take your line.